I love little gadgets. I kind of got that in my blood; my dad loves gadgets, so did my grandfather. Basically I'm screwed. Anyway as a make-up artist I'm always looking out for new little gadgets to make my life easier. And make me look cool. At least I try to.
First thing I ran into not long ago were the Lavaque Cufflette; a handy wrist palette that easily wraps on your wrist and gives you a little more freedom to work; keeping a extra hand free to grab other products. If the Cufflette is a little to big for you the smart folks at LaVaque also though up the Thumbpalette; actually a ring-sized palette that is designed for smaller sized amounts of make-up. Because it's smaller it's also a bit handier to use in my opinion. Lavaque also makes a  line of handy spatulas.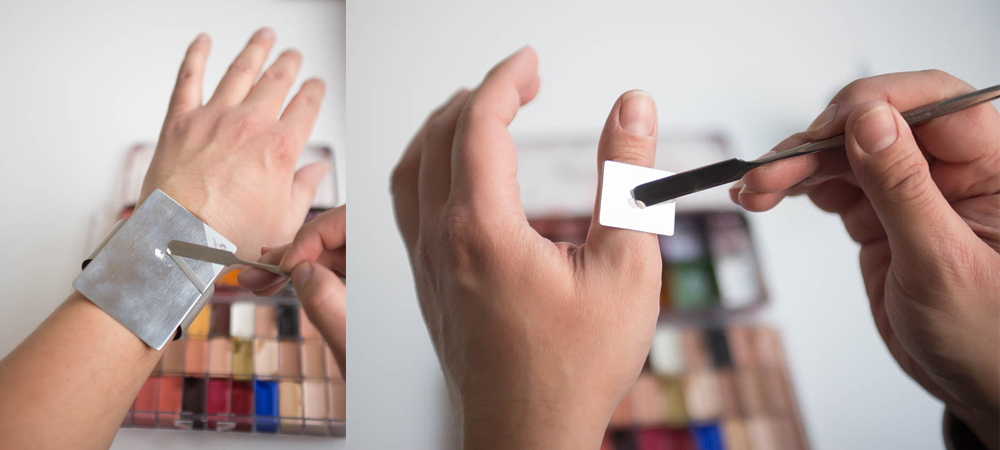 The next gadget I fell in love with is the Brush Sleeve by Rebecca Rachael Designs  This perfectly designed Brush holder holds a load of brushes (or hairpins for that matter) and even has room to hold a small palette. There's a velcro strip to accommodate a powdrpuff and on the inside is even a little pocket for your credit cards or other valuables you want to keep close.
The last little gadget is more a life hack as it hasn't been designed for make-up artists at all; my former student Dany Buta figured out the best way to keep you powder puff close is to attach it to a little roller clip! It's a fast and easy way to keep – and lose – certain make-up tools. I love the idea!
I hope you guys loved this post! If you have any feedback, comments ideas please do e-mail me at info@kelatow.com